There is this image that women have when they think of perfect hair. There are some variations. But, in general, this image includes hair that is long, thick and luscious. Unfortunately, not everyone is born with such hair. There are some who simply are not able to get their hair to grow past their shoulders. There is luckily another option. This being hair extensions. They give a person the added length without the added growing time.
As with any product, there are good quality hair extensions and ones that couldn't look real if they tried. These are the best possible hair extensions that are offered on Amazon.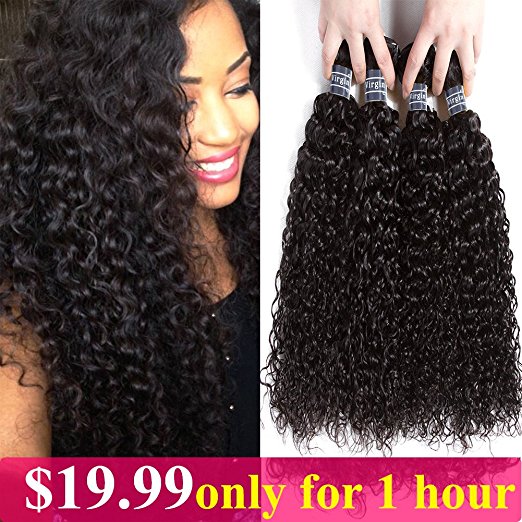 This company works to deliver you the finest hair from Brazil. One need only hop onto a soccer channel to see how outrageously beautiful the women's hair in Brazil is. Maybe it is something they put in the water.
The hair extensions sold by Amella are not only beautifully long, but they are also curly. This gives them some added personality. If you want the hair to be any longer, then all you need do is take a hair-straightener and go to town. The result will be locks that go all the way down your back. There is not much variation with color here as they are naturally black. But, that does not leave you completely without options. These bundles are virgin hair, meaning that they have not been damaged by processing or chemicals. It is perfectly safe to bleach and dye them to match your natural hair color.
With each purchase, you are provided with 4 bundles of hair. These each weight about 95 grams and are more than enough to cover the whole head. There is no included shedding or tangling.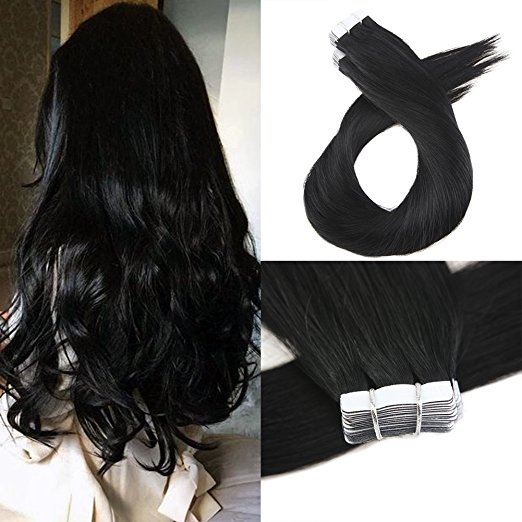 When it comes to purchasing things on the internet, it can become quite scary if you don't know where your products are coming from. Moresoo provides the perfect product for those that are internet shy as they a brand that are registered in the United States.
If you are going to buy extensions from them, then you can feel secure in knowing that you are only getting human hair. These extensions are tape in ones and come in packets of 40 pieces with each piece weighing about 0.09 ounces. To cover your entire head, you will need to purchase between 1 and 2 packets, depending on the head being dealt with. While this hair can be styled with both heat and products, caution is advised when it comes to bleaching and dying. The hair has already been treated with chemicals, for the sake of sanitation, and may not withstand harsh treatments.
If you do want to dye the hair, then make sure you test the dye on small pieces first to achieve the desired color.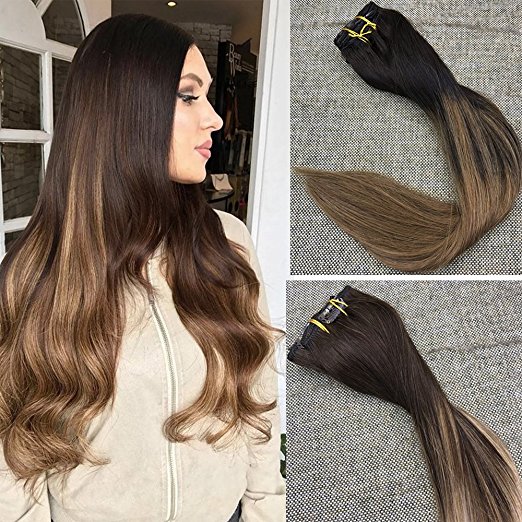 With Full Shine, you will not only be getting good quality hair extensions, but you can also apply them yourself. There is no need to take a trip to the hairdresser as these are clip in hair extensions.
Length is key with these silky soft locks. They are each a whopping 16 inches long, which is more than enough to make anyone feel like a princess. If you want to cover your whole head with these extensions, then one packet should be sufficient. Each packet will give you 10 pieces that each have a weight of 100 grams without the clip. As this is human hair, the styling options are endless. This hair can be straightened, blow dried and even dyed and bleached if that is what you are looking for. Although, it may not even be necessary to dye these locks as they are already available is balayage color.
Once applied, you will be left with a head of hair that is wonderfully soft and thankfully resistant to tangling. There is also a no shedding guaranteed which will make you feel secure on the windiest of days.
With extensions, anyone can have long and luscious hair, but no one wants hair that is noticeably fake. These options will give you the head of hair of your dreams without anyone being the wiser.