History of the Bra
The bra is much younger than many people would think. The modern bra as we know it has been around since the early 20th century. However, a similar version of has been since before the Middle Ages. As early as the 4th century BC, women used breast bands that helped keep the breasts up. Corsets during the Victorian Era also helped keep the right body parts in place. The first patented bra was introduced to the world in 1913. Over the years there have been brassieres that are strapless, full coverage, maternity bras, cone shaped, nursing bras, push-up bras, plunging bras, backless bras and the minimizer bra.
What is a Minimizer Bra?
A minimizer bra is exactly what it one might think it is. It is a bra that helps minimize the size of your breasts. For anyone who has a larger bust, it can be embarrassing to wear a button-down shirt that has gaping or random buttons popping out. The minimizer bra can help your breasts appear smaller compared to the rest of your body. Clothing will certainly hang much better with a minimizer bra. Most women who consider breast reduction surgery try the bra minimizer on first. By wearing this bra, you can tell if you will make the right decision in opting for surgery. Remember that a minimizer bra is not for everyone, but don't knock it before you try it.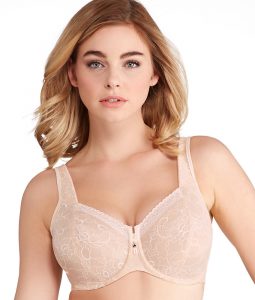 How Does It Work?
One of the main take-aways from this bra is that it does not physically reduce your bust but it makes your bust look smaller. Most minimizer bras are comfortable to wear and do not restrict your breathing. The important part of this bra is to flatten the breasts without the breasts looking flat. Some bras that have a flattening technique also make the breasts look too flat. The minimizer bra puts breasts in a larger cup sizes to avoid any spilling over of the breasts. The closest thing to a minimizer bra is a sports bra. The feeling of having tightness and security around your breasts is what you get with a minimizer bra.
Another thing that the minimizer bra does is lift your breasts so they do not appear saggy. This is perfect for new moms who have just finished breastfeeding and want to give their breasts a little push. Minimizer bras also have padding all over the bra. Most bras today have padding on the bottom of the bra or in certain parts. The minimizer bra offers full coverage, including padding (but not overstuffing).
There are no concrete health benefits that have been linked to using a minimizer bra. Some things that the minimizer bra can help with include,
Reduce appearance in breast size
Help with better shaping
Give a more uniform or "pleasant" figure
Support larger breasts
Best Minimizer Bras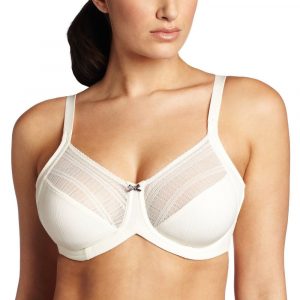 When finding the best minimizer bra for you, size does matter. You do not want to buy a bra that does not fit you properly or does not cover both breasts. You cannot go into a store and choose a bra without trying it on. Below is a list of the best minimizer bras on the market.
It appears that many A-list celebrities around the world have decided going braless is much easier than wearing a bra. This is incredibly hilarious, especially knowing that it took women hundreds of years to finally create the bra. Everyone has a choice of whether they want to wear a bra or not. Unfortunately, those with larger busts usually do not have the luxury of choosing. A minimizer bra is the best for any woman who wants to make her breasts appear smaller than they are, regardless of their actual size. If you are unsure a minimizer bra is right for you, try one on and see what happens. You will never know if it works for you if you do not try it.