Using eye shadows is a great way to make your eyes pop; we take a look at what the best eye shadow for blue eyes is in this post.
There's nothing quite as enchanting as looking into deep blue eyes. If you're lucky enough to have blue eyes you can play around with different colors that enhance the eye color.
Choosing the correct colors
When looking for the best eye shadow for blue eyes always consider colors that will compliment your eyes. These complimentary colors will work well with blue eyes. An example of complimentary colors would be turquoise, teal, and, violet.
On the other hand you can also opt for contrasting colors which will really bring out the blueness from your eyes. These colors include colors such as red, yellow and orange.
What is the best eye shadow for blue eyes?
Tones of blue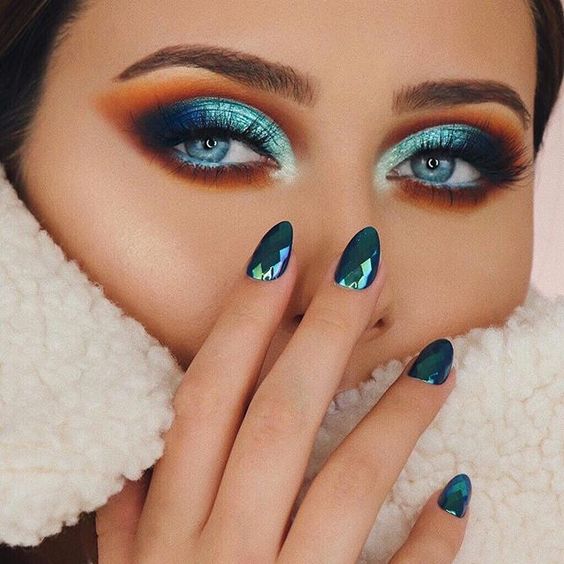 This eye shadow inspiration looks full on glamorous and it works well with the eyes. Notice how the tones of blue and turquoise work together to brighten the eyes. It a great makeup look for a night out and it's extremely stunning.
The inner creases of the eye have an almost pearly eye shadow, which instantly gives life to the look. While the bottom and outer areas are blended with much darker colors.
Create this look using the Midnight Chaos Shadow Palette from NYX. This palette is a great buy because it has so many different colors that you can play with. It's also super affordable and only costs around $11, making it a complete steal.
Tiffany blue eye shadow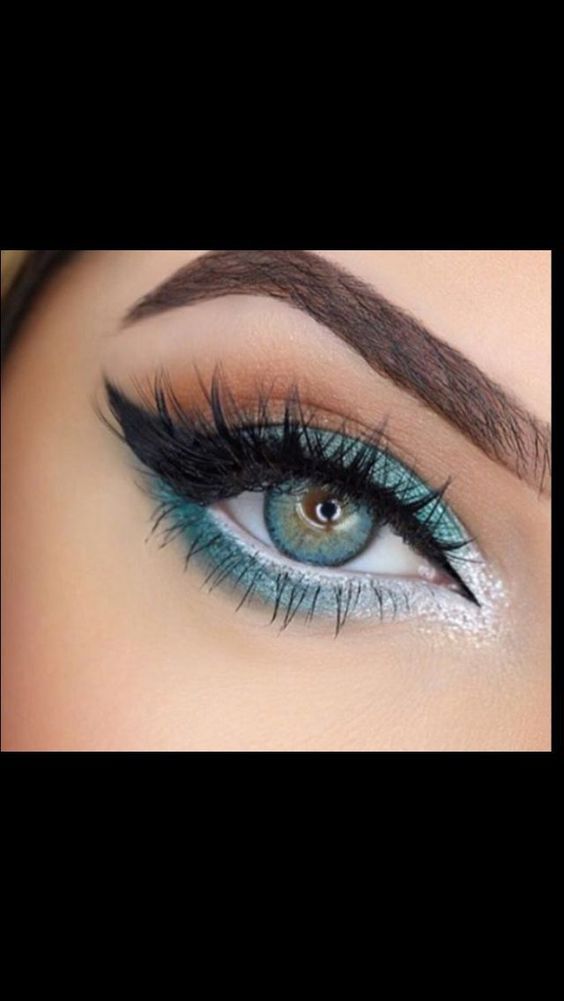 This look is extremely elegant and can be worn out to a classy event. These colors play beautifully with the natural eye color. The inner creases of the eye and the waterline has been lined with white eyeliner, which makes the eye's look awake. We love it!
You can get this look using Lid Pop eye shadow from Clique; it's the perfect product to help create the ultimate look.
Shop this product at Clinique for $18.50
Ice queen eye shadow look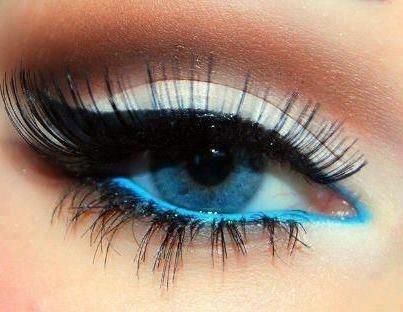 Beautiful and lighter colors are another great option when searching for the best eye shadow for blue eyes. This makeup look instantly reminds us of water and ice, because of the stunning colors used. Who knew that so much could be done with a simple white and baby blue eye shadow?!
To achieve this look add on a white eye shadow to the top eyelid and then use baby blue eyeliner on the waterline. Finish off with thick winged eyeliner.
Mac creates beauty and quality eye shadows. Their formulas don't dry out, fade or crease when applied to the eyes. Their range of eye shadows is incredible and there is a huge variety of colors to choose from.
Shop this eye shadow from Mac for only $17
Natural eye shadow
If you're not ready for something bold and want to keep things subtle and natural then opt for an eye shadow look similar to this. It looks very clean and is perfect wear during the day while you're at work or school.
The tones used here are both light and dark tones. The inner part of the eyelid is a beautiful peachy color, while the outer lid is a brownish tone.
You can get this look by purchasing the Smashbox Cover Shot Eye Palette. It has all the right color tones and each eye shadow is perfectly pigmented. It allows you to create natural looks and also smoky eye looks, making it awesome!
Shop Smashbox Cover Shot Eye Palette online for $29
Nude eye shadow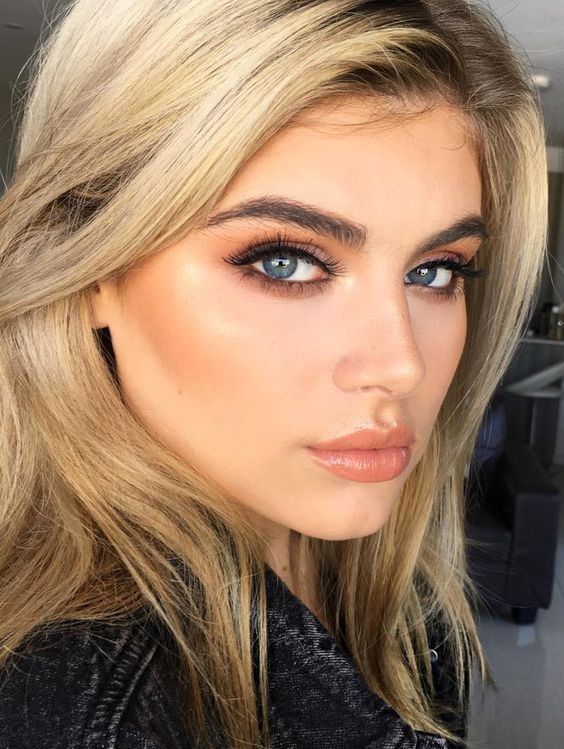 Nothing's better than owning every part of you. This eye shadow look does just that! It accentuates the boldness of the eyes while keeping it sublime. If you're not really in the mood for full on glam then this is the ideal look to go for.
Get this look by applying Bobbi Brown eye shadow in the tone "A light pale pink". Its available online for $27, which is a little pricey. However, the results are excellent!
Shop this eye shadow online at Bobbi Brown
Orange is the new color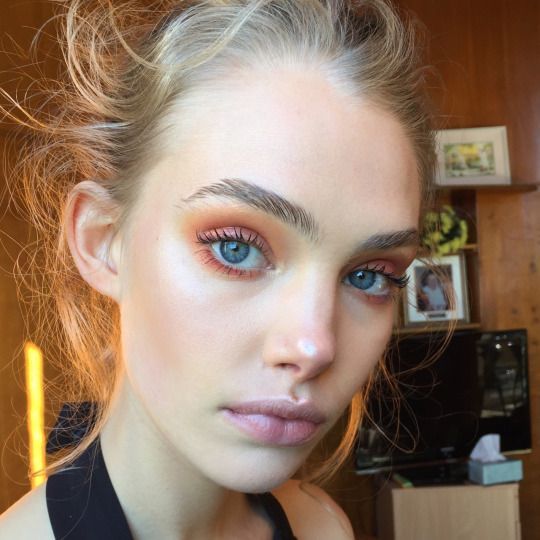 According to the color wheel, orange is a contrasting color to blue. This means that it will instantly allow the eye color to be easily noticeable. If you're looking for something unique and beautiful then this is a great option. The under eye is also nicely shaded to bring more depth to the color.
To get this look start out with a light pink eye shadow, then add on to the pink eye shadow with a bring orange eye shadow. This look requires some blending so it might take time to get this exact look. Try Urban Decay eye shadow, for this look. The quality of this product is super velvety, soft and long lasting. You won't need to do any touch ups, which is always a relief for those long days.
Fiery eye shadow inspiration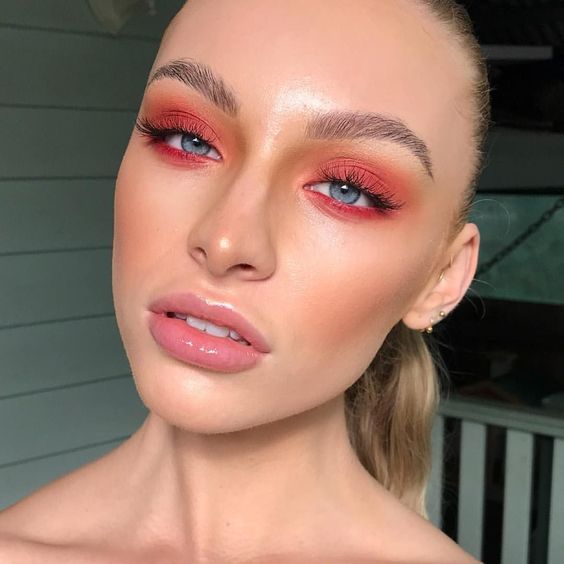 If you're looking for something fired up, then a reddish hued eye shadow is the way to go. It brings so much or detail to the eyes and also is a contrasting color. Many people don't realize that reddish tones work beautifully with blue eyes.
You can get this look by using a primer on the eyelids and then go in with a strong pigmented red eye shadow. Again, you will need to blend this right around the eye to create the ultimate fiery look.
To create this look you will need Freedom System Eye Shadow Matte from Inglot. Inglot is a renowned makeup brand that has one of the hugest varieties of eye shadows available. Each individual eye shadow in this range costs only $8, which is a complete steal!
Violet and Blue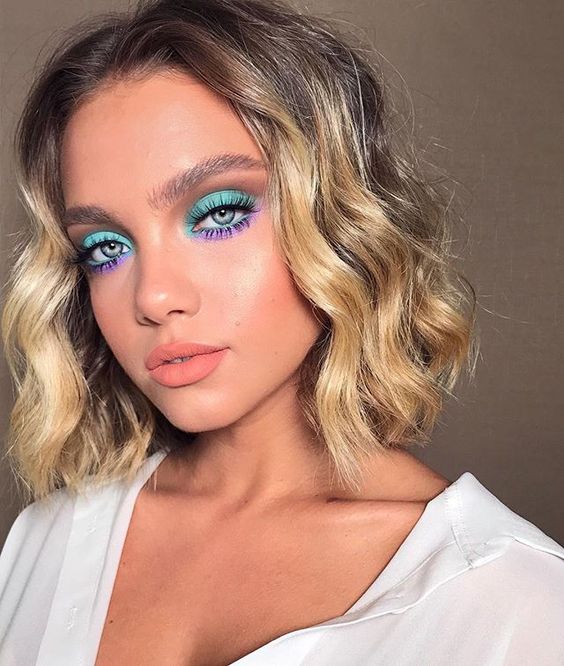 As we've mentioned, violet and blue are complimentary colors. They look ravishing on blue eyes and they certainly bring out all the blue. This look is extremely sophisticated and it can instantly glam up your look.
In order to get this look you will need to work with a violet and light blue eye shadow. Start out by blending the top lid with a vibrant blue eye shadow and then use the violet on the under eye area. This creates great dimension when used with your favorite mascara.
Create this look by using the Cover Shot: Crystalized Eye Shadow Palette. You can even opt for something different by using a glitter effect from this very palette.
How to find a good quality eye shadow for blue eyes
The answer is quite simple, shop around and try testers in makeup stores. Look out for the falling:
How pigmented it is
When an eye shadow is well pigmented the color is vibrant and always pops when you wear it. This is especially important for neutral colors such as brown, nude and pearl hues. Generally speaking, the more pigmented the eye shadow the better it will be.
Test how long it lasts
Another wonderful thing about going in to stores is getting to try the different testers. When searching for the best eye shadow don't just purchase one right away. First apply different eye shadows on your hand so that you can see how long each lasts. If a specific brand lasts all day then that's a great start and you should purchase the product.
Test for any skin reactions
A very important thing that is often overlooked by many women is testing the product before buying it. Not only will you be able to see how long the product lasts but also whether or not you main have an allergic reaction to the product.
The area around the eyes is extremely sensitive, which is why doing a test patch is vital. Certain brands might have harsh ingredients that might not agree with sensitive skin. It's always better to be safe than sorry.
Ensure that the eye shadow brand isn't fake
Nowadays there are tons of fake beauty products on the market. No one actually knows what goes in these products, which is why it's best to abstain from using them. Never ever buy fake products even if they might be extremely cheap. No one knows how they might affect you in the long run.
Conclusion- Best eyeshadow for blue eyes
Now that we've taken a look at a few different looks from different brands it's time to finalize what the best eye shadow for blue eyes is. It was a little tricky, however we've found an eye shadow that is great quality and also affordable.
The winner has got to be the range from Inglot. They have a wide variety of colors that compliment and contrast blue eyes and their range is completely affordable. You can also customize and build your own palette, making it ideal! Our favorite eye shadow from Inglot has got to be their Freedom System Eye Shadow range.