What is a Bra?
A brassiere, also known as a bra is a form of undergarment that helps maintain and support the bust. Women have been wearing bras for centuries but it the modern-day born was patented in 1913. World War I began only one year after the patented version of the bra. Corsets and bodices were widely popular among Europeans and some people may argue that the bra was patented prior to the 1913 date. Nevertheless, women from Ancient Greece and Rome knew a thing or two about breasts and they fashioned breast bands to help give the "girls" in place. Bras are made from different materials and are often blended to create the perfect bra. For special occasion outfits or certain styles, the strapless bra is needed.
Different Types of Bras
There are many different bra types that allow a woman to feel more comfortable in her own skin. For example, some of the bra styles include:
Convertible
Full cup
Push-up
T-shirt
Minimizer
Demi-cup
Backless
Strapless
Padded
Racerback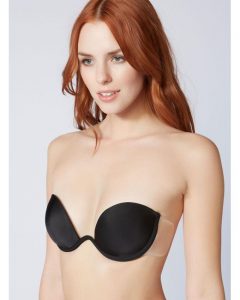 How Does a Strapless Bra Work?
Strapless bras are intended for use under clothing that you don't want the straps to show. Women will bust sizes between A and B are the most suitable for strapless bras. Sometimes women with a small C size can get away with a strapless bra. The larger the bust size, the more difficult it is to use a strapless bra. A strapless bra needs support and you should look for silicone lining or elastic bands to help keep your breasts up.
For women who have a small cup size such as an A, a bandeau bra is the perfect strapless bra to use. This bra has no cups and essentially holds up your breasts with fabric. For a more fullness effect, the push-up strapless bra is the way to go. This bra can reveal a more plunging neckline and give the "girls" a little show. Similar to a corset, the backless, strapless bra is used when you want to reveal your shoulders, upper torso and back.
It is not written in stone that women with a fuller size bust such as C and D cannot use strapless bras. The bustier is a perfect bra that helps keep the breasts in place by adding a little extra support from the bust to the waist.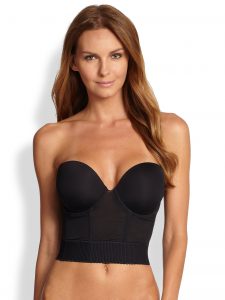 Reasons Why It Doesn't Work
Strapless bras are not for everyone. If you are a full figure woman who wants to wear a strapless bra, your breasts might not get the support they need. Here are some of the reasons a strapless bra might not be the right fit for you or does not work.
Small or loose small: In order for the strapless bra to work, the band needs to be wide. A small or narrow band will not support the weight of the breasts and cause the bra to fall. If the band is too loose then you need to go up a size. Remember that the bra size does not matter, as long as the bra is the right fit for you, then you are a good to go.
Convertible bras do not work: It is sad to say it but these types of bras are a waste of money. If you think of convertible bras, you may get the result you want but not the result you need.
Fabric of your clothing is too heavy: When you are wearing something that is too heavy or too loose, the bra does not have the proper material to grasp onto. This causes the bra to fall, your breasts to spill out.
Worn out bra: The most common culprit of a strapless bra not working is because it is worn out. You would not wear a worn-out pair of shorts or shirt, right? Wearing a bra from at least six months is the proper time limit for a bra's lifetime (regardless the style). If you barely wash or use your strapless bra then it may not be as worn out as you think. Low quality bras also have less wear and tear in them.
Best Strapless Bras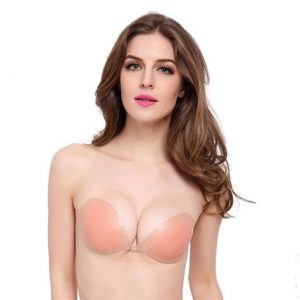 So, you are looking for a strapless bra? Take a closer look at the list below to see the best strapless bras around.
Well, there you have it. You have read what a strapless bra does and how it works. There are even links to the best strapless bras on the market. Now all you need to do is get yourself to the store and try on one of these bad boys! Pick the right strapless bra for you and do not settle! Your "girls" will thank you for keeping them up right and in place.