As a woman with problematic, overly bleached hair, I've experienced issues with choosing an appropriate hair dye. But that was right before I found, what I believe to be the best semi-permanent dye for all types of hair. Yes, I'm talking about Adore hair dye here.
What I Like About It
Adore hair dye got me at being super affordable for anyone. A bottle of that dye, which equals 4 oz, will cost you anywhere between $5-$6. While many other brands of hair dye at this price range turn out to be dangerous for your hair, the Adore product is totally opposite.
After the first use, I didn't notice any changes in my hair structure. Even when it dried and I was able to brush my hair, it felt amazingly silky and smooth. The secret of the brand is that they are trying to avoid adding any harmful chemicals to the products. Adore also doesn't contain any alcohol, so it's fine for girls with thinner or damaged hair. There isn't any ammonia or peroxide in this dye, which is good for gals with bleached hair.
The first thing you'll notice as you're unpacking your bottle of the dye is its wonderful scent. I got used to dyes having little to no smell at all, but this one has something reminding me of a tutti-frutti kind of smell.
Adore Hair Dye Colors
As for its coloring abilities, I've used many different colors from Adore and can tell you a few things about this brand. Their color differences are absolutely amazing, and I've tried both pastel palettes and brighter palettes. When I went with Purple Rage, and it was the first Adore dye I used, I noticed that the color I turned out with was no different from the promised color. As for me, this is a huge success, as other brands can't accomplish this effect.
Another cool thing about their colors is that those don't bleed even a little. This dye is highly pigmented, so the fact that you can save that color is truly amazing. Unfortunately, (but inevitably) this dye fades, but I could give it 5 stars for durability. When I colored my hair Cotton Candy, the color managed to stay for 3-4 weeks before I noticed that it starts to fade.
Their vast palette of colors allows you find a perfect shade for yourself. As I am also a fan of experiments, I tried adding some conditioner (white based) to create a smoother, more pastel look. If you're looking for some fun, try mixing two colors. I did mix my Pink Rose with Indigo Blue to have an extraordinary look once.
Click to see our review of the prettiest Adore Hair Dye Colors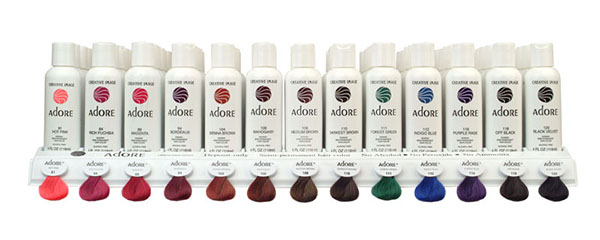 How Long Does It Last
A 4 oz bottle of lasts for a fairly long time. I have pretty long hair that goes to my mid back, but I managed to save plenty of the mixture for coloring my hair again. If you're going to just dye your ends, that would leave even more for later. What's also great is that even if you don't bleach your hair before, putting any bright color of Adore on dark ends will really make your ends bright.
Because I've used many semi-permanent things before, I know a few general rules you have to follow. You have to wash your head before you apply Adore, which will allow you open up your cuticle. But remember that conditioning only comes after, so you can close your cuticle. This would allow you save that bright amazing Adore color that you see on a box.
How to use
Wash and shampoo the hair thoroughly and once the hair is, clean ensure to dry it well.
Next, apply a protective cream around the hairline.
Apply the dye about 1/8 inches from the scalp and comb it downwards thoroughly. Ensure not to use the dye if your scalp is injured as it may cause some irritation.
Once the dye is thoroughly distributed, cover the hair with a plastic cap and wait for about 15 minutes for the dye to process.
Finally, rinse and shampoo the hair completely. Assuredly, the dye retains its vibrant colors even after several washes.
As a precautionary measure, apply a small amount in your elbow or and leave it to settle for 48 hours. If you experience redness, itching or burning, do not use the product.
The Semi-permanent or the permanent version?
The Adore hair dye comes as semi-permanent and the permanent dye. The semi-permanent dye is gentle to the hair and is available in a wide range of shades. It is rich in natural nutrients that protect the hair from drying and breaking. Although the dye is gentle, it penetrates each hair strand with the vibrant colors and the natural nutrients.
The permanent version is made with nourishing ingredients that are built to penetrate each hair strand with multiple nutrients. Unlike the semi-permanent one, this stays on your hair up to several months.
Whether you choose the semi-permanent or the permanent dye depends on whether you want the dye to remain in your hair for months or whether you want it in your hair for a while. The permanent version will go for months without fading. This permanent dye will not be ideal if you wish to change your hair's color often. The best thing about the semi-permanent adore dye is that you can easily remove it and change to a different color.
The downside of the Adore hair dye
The semi-permanent version eventually fades out, and therefore you have to keep reapplying after a few weeks.
Also, the dye is not too gentle on the scalp. Where it falls on the scalp, it has been shown to heavily stain the skin. It is for this reason that you should apply it about 1/8 inches from the scalp.
What are the ingredients in Adore Hair Dye?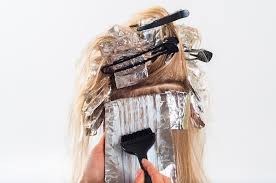 I was never interested in investigating the ingredients in hair products.
However
, with all the horror stories about damaged dyed hair , I want to have a careful look into what ingredients
are contained
in Adore Hair Dye
.
Adore Hair Dye
are advertised
to have free from ammonia, peroxide and alcohol. These three ingredients are the culprits in hair damage. They are harmful to the hair follicles and the scalp,
Solvent
Like most hair product, Adore Hair Dye is water-based. Water / Aqua or Eau is the solvent in the manufacture of this hair dye product.
Humectant in Adore Hair Dye
Humectants
are used
in many cosmetic products such as shampoos and hair dyes to
retain
 hair moisture and prevent dry and dullness
.
Three important humectants in Adore Hair Dye. These are aloe vera (aloe barbadensis) , propylene glycol and glycerin. They are responsible for keeping the moisture in your hair and scalp.
Aloe vera
is used
as a conditioner and keeps hair shiny and smooth.
Propylene glycol is FDA-approved and is classified under "Generally Recognized as Safe" to use in cosmetics and other purposes
. It is definitely non-toxic. This ingredient makes the hair soft and easy to comb.
At the same time, it absorbs excess water in the formulation and prevents the growth of bacteria in the product
.
Glycerin is also used as a conditioning ingredient, too. It brings out the moisture in your hair, retains it by keeping the moisture locked in.
Buffering
Buffering acids are needed to maintain the balance of acid and base of the product or adjust the pH level in the hair follicles.
Adore Hair Dye contains sodium citrate and citric acid
in order to
keep the acidity of the product at an acceptable level
.
They help make the hair smooth and shiny by keeping the PH
slightly
acidic. They also prevent growth of bacteria
.
Sulfectants
Hydroxypropyl methylcellulose and Octoxynol-9 act as sulfectants. They are emulsifying agents. These two components help improve moisture and avoid irritation.
Conditioners
Hair moisture is important in maintaining a shiny and manageable hair.
Adore Hair Dye uses conditioners such as hydrolyzed collagen protein and trimethylsilylamodimethicone. The elasticity in hair
is increased
with collagen protein content.
Similarly
, trimethylsilylamodimethicone, which is a silicone fluid, 
is responsible for
the easy-to-comb and silky feel of your hair after hair dyeing or coloring
.
Equally important are the minor ingredients such as lauryl glycother (stabilizer), methylchoroisothiazolinone (preservative to prevent bacterial growth) and the fragrance
.
In the final analysis, I am convinced that Adore Hair Dye is a product that is safe to use. More importantly, Adore Hair Dye products have no ammonia, no peroxide and no alcohol contents!