There's nothing better than being unique, which is why we at Beauty Logic have compiled a list of the best bohemian hairstyle ideas. These hairstyles are completely unconventional and look truly authentic. If you're tired of your same old hair do, then it's time to change things up with these hairstyle ideas.
Why choose a bohemian hairstyle?
Well, it's quite simple; choosing a bohemian hairstyle means that you can break away from the norm. It's also a great way to express yourself, while creating new trends at the same time.
The great thing about these hairstyles is that they can be worn on a day-to-day basis and also to functions and events. Bohemian inspired hair is greatly accredited by art lovers who are all about freedom and expression.
Now that you have a better understanding about what bohemian culture is all about, we can dive in to the fun part.
Bohemian hairstyle ideas for short hair
Often, women with short hair forget that they actually can do so much with their hair. The wonderful thing about bohemian hairstyles is that they can work with all hair types and all hair lengths.
Classic bob with a twist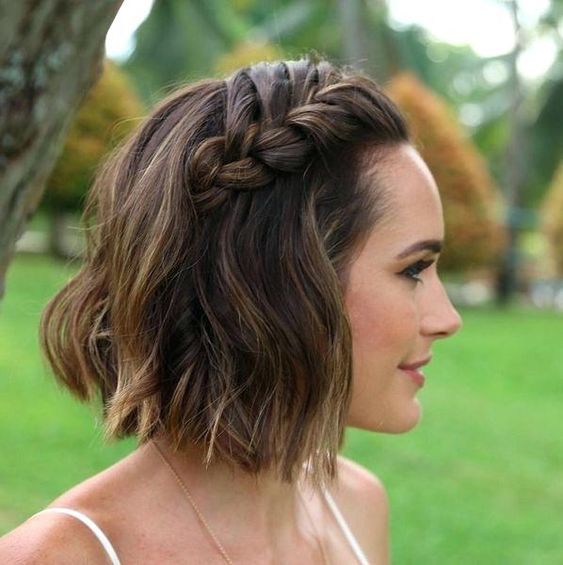 This hairstyle is simple and classy altogether. It's a great hairdo for all occasions and can even be worn to work or school.
Here's how you can get the look:
Start out by brushing the hair to detangle it.
Next, create gentle waves in the hair using a curling tong. Unlike conventional curls, you will not need to hold the curling tong for too long.
Keep the hair wrapped around the curling tong for a few seconds and let go.
Thereafter, it's time to create a waterfall braid. This step can be tricky but it's quite simple.
How to create a waterfall braid:
Part the hair and grab a piece of hair from the front of the head. This will then be divided into a further three sections.
Start out by doing a simple three strand braid.
Once you've got this you can slowly start adding bits of hair from pieces of hair next to the braid.
Continue with this until you have reached the bottom and securely tie with a hair band.
Lastly, place a bobby pin to neatly tuck the braid behind the hair.
Alice band boho bob
Another fun way to get the most out of short hair is by creating fun looks like this one. This hairstyle is really easy to do and honestly, looks incredible. It's a great hairstyle for a special occasion and it looks so elegant.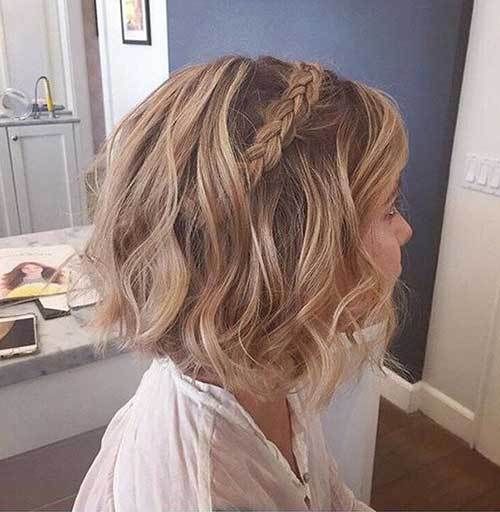 How to get this look:
For this hairstyle, it's best to work with 2 day old hair.
Brush you the hair to remove any knots
Curl the hair with a flat iron or curling tong (depending on your preference).
Next, grab a piece of hair that you will be able to braid. It's best to use hair from behind the ear area, so that it looks like an actual Alice band.
You will need to create a simple three strand braid from the roots to the hair tips.
Secure with a hair band and drape it all the way in the opposite direction across the head.
Use a bobby pin to place the braided hair in position.
This technique can be repeated on the other side of the hair as well.
Lastly, finish off the look with some hair spray to keep everything in place.
Messy bohemian hairstyle for short hair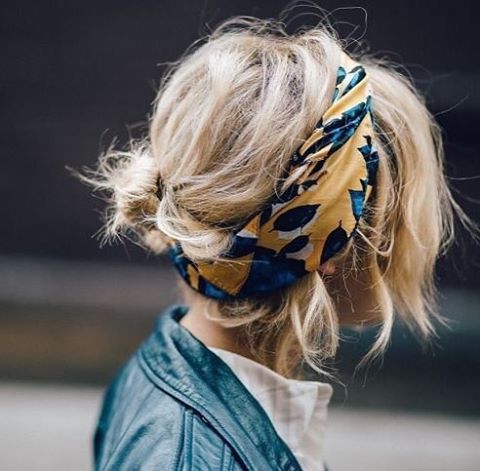 This look is great to wear to festivals and art exhibitions because of how crafty it looks. All you really need for this look is a scarf with your favorite print on it. You can choose anything from flowers to Aztec patterns, depending on your preference.
How to get this look:
Start out with washed hair that has air dried completely.
Thereafter tease sections of the hair to create a messy look.
Once you've gotten the messy look tie a small bun at the back of the head.
Lastly, put on the scarf towards the mid-section of the hair.
Bohemian hairstyle ideas for medium length hair
Medium length hair is great to work with because there is a lot that you can do with it. These bohemian hairstyle ideas are all distinctive and beautiful.
Summer inspired boho hair
This look is probably one of our favorite summer looks of 2019 and it honestly is the easiest one yet.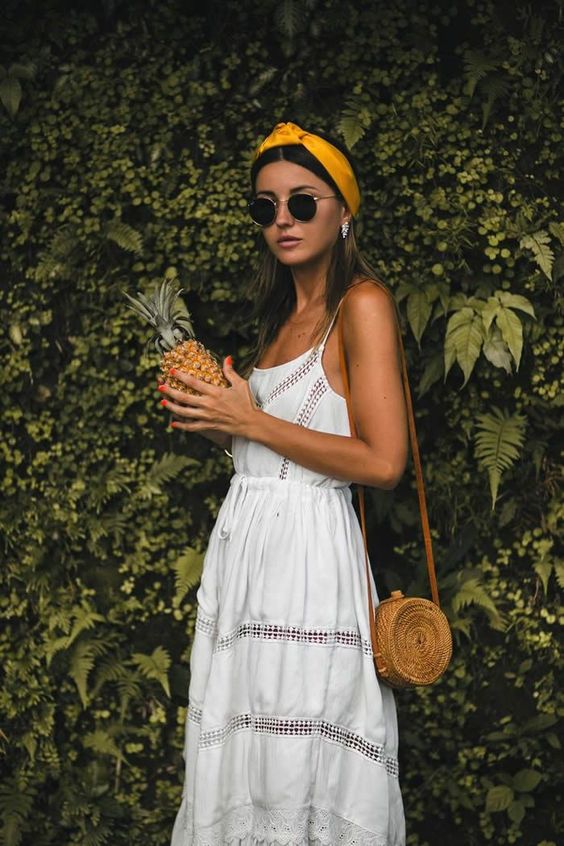 How to get this look:
Remove any tangles from the hair so that you can achieve with silky and smooth look.
Next, use a flat iron to straighten the hair.
Part the hair in the center
Use a silk hairband and place it about 2 inches from the hairline.
Hat with a bohemian twist
If you're having a bad hair day then we've found the ultimate cover-up with this hat. You can get the best of both with a hat and a jazzy bohemian hairstyle.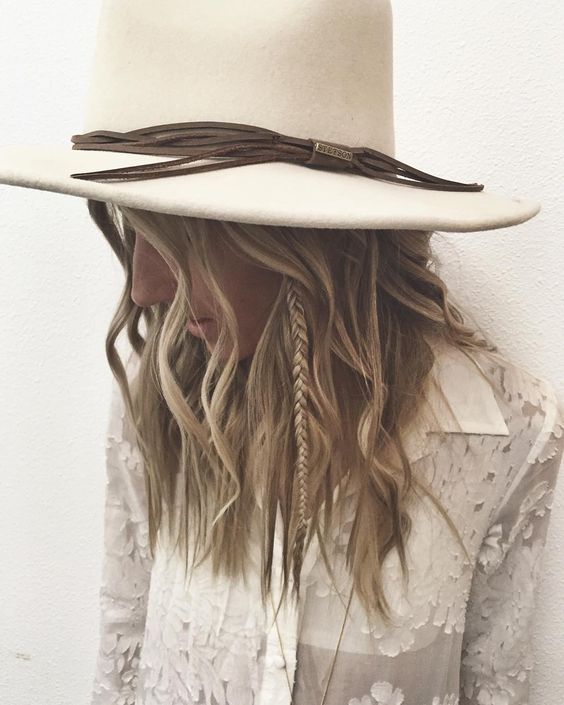 How to get the look:
You can choose to have your hair slightly curly or straight for this look.
Thereafter, you will need to grab small sections of hair to braid.
You will want to do about 5-6 braids throughout the hair.
Place your favorite hat on and you've got a great hairstyle.
Medium length hair bun with a scarf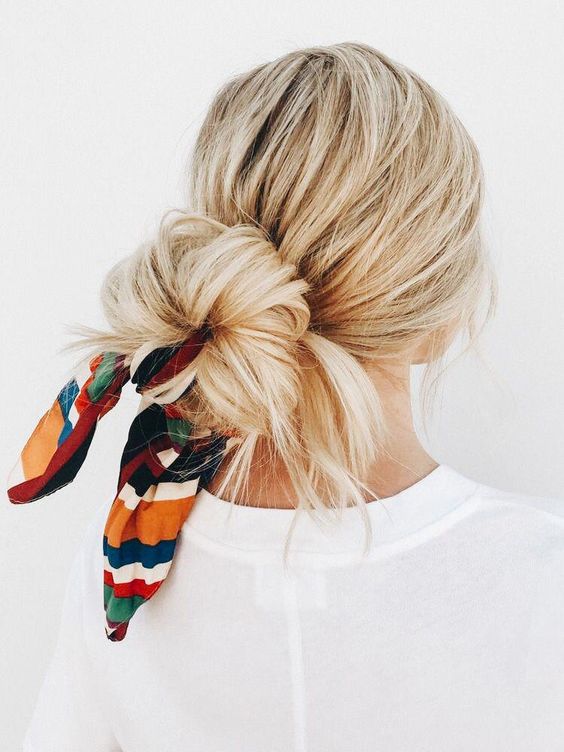 Now that summers settling in you might want to keep your hair out of your face. This bun allows you to do just that, while keeping you looking fresh all day.
We would suggest using a sock bun for this hairdo so that you can get a great round bun effect. Once the sock bun is in place you can drape a pretty scarf around the hair to give some life to it.
Bohemian wedding hair
Bohemian themed weddings are absolutely breathtaking! This is a great bridal hairstyle if you're thinking of having a bohemian inspired wedding.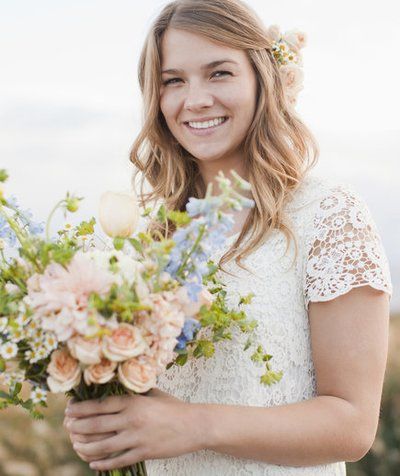 How to get the look:
Separate the hair with a comb to form a side part.
Curl the hair from the midsection of the head, so that soft curls form.
Grab some hair from the wider part and clip in position with bobby pins.
Add on your favorite flowers and secure with a few bobby pins.
Half up hair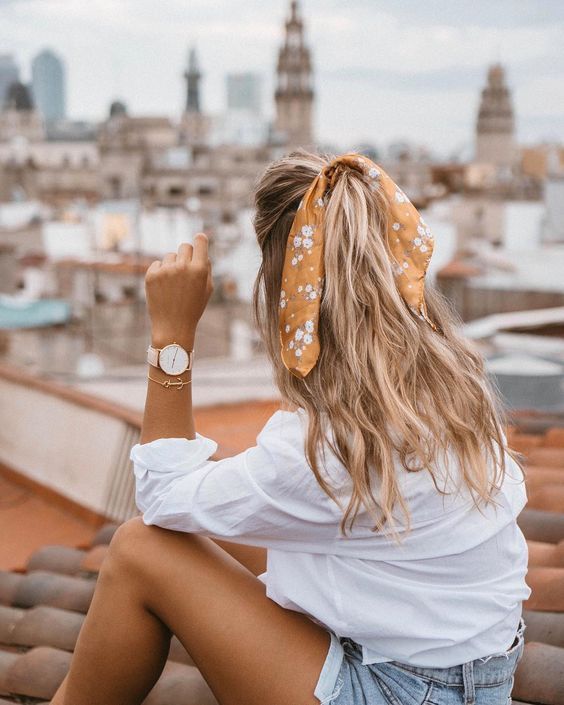 Instead of doing a boring half pony, try adding on a head band to create some extra character. This look is simple, easy to do and doesn't require much time or effort.
How to get this look:
Detangle the hair so that it's easy to work with
Next, separate the front section of the hair right till the crown of the head.
Tie the front section up with a hair band.
Add on a head band around the hair band and you're good to go.
Bohemian hairstyle ideas for long hair
Long hair can be both simple and challenging to work with. However, there are beautiful hairstyle ideas that you can try out if you have long or extra-long hair.
Earthy inspired hair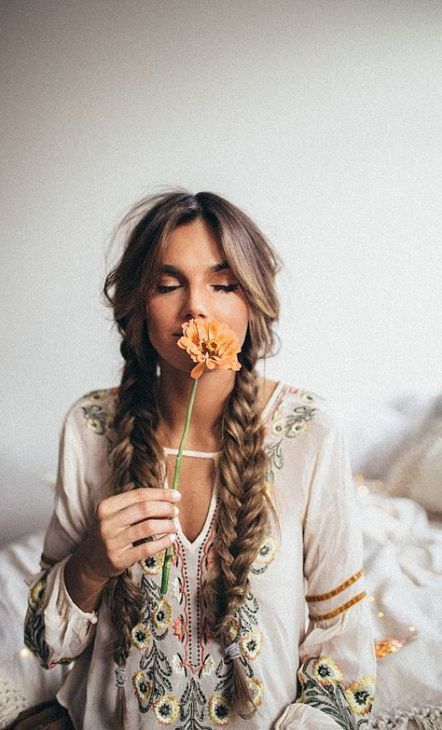 This hairstyle is ideal for those who consider themselves as an "earth child". It's fun and charming and a great look to wear out on a date or picnic.
How to get the look:
Separate the hair into two sections.
Braid the hair from the neck line using the fishtail method.
The fishtail method can be a bit challenging but here are a few steps to guide you:
Once you have separated the two sections of hair, tie each up with a ponytail.
Divide the ponytail into a further two sections.
Grab a piece of hair from the outer side of the right section and flip it over to the left section.
Next, grab a section of hair from the left and flip it over to the right section.
Repeat by grabbing a section again from the right section and flipping it to the left section. Do the same with the left section.
Carry on until you have reached the end of your hair.
Secure with a hair band.
Simple braids for long hair
This hairstyle is another simple hairstyle that looks stunning. It's perfect to wear out to parties and festivals.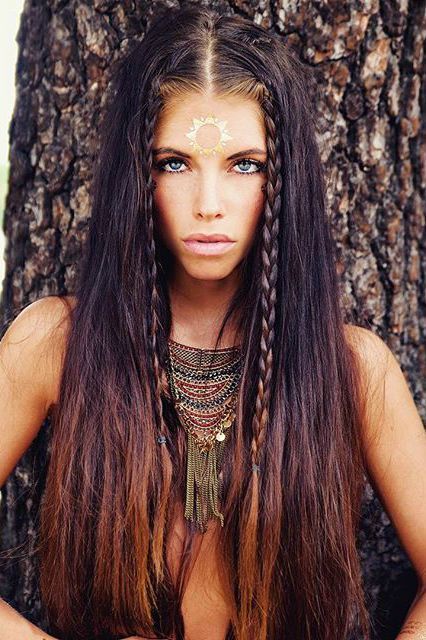 How to get the look:
For his look you will need to have your hair straightened. You can either achieve this by getting a simple blow wave or you can use a flat iron.
Once the hair has been straightened it's time to get the braiding completed.
Braid the hair on front sections of the hair using a simple three strand technique.
Continue the braid up until you have reached the end of your hair.
Tie with a hair elastic.
Conclusion
Bohemian hairsyles are all truly uniqe on their own. There is so much that can be done and you can choose a specific hairstyle for any occasion. The reason that bohemian hairstyles are so trendy is becuase everyone interprets them in their own way.
These hairstyles all vary from classy to sophisticated and they look great on all hair types. It's always a good idea to try them out beforehand to see exactly how they look on you.