There are days when we all want to say forget everything and let the wild side show. A great way to do that is with an amazing hair color. For many, the long held belief was that anything other than the most natural color was a no. There was also once a school of thought that hair color had to be harsh and the only way to get rid of a color you hated was with more dye or a drastic cut. Thankfully, those days are long over. Now, when I want to do something new and exciting it's as easy as picking my favorite color. With all the gorgeous colors from Adore, it couldn't be any simpler. This is my experience with Adore hair colors.
Why I Chose Adore Hair Colors
First, let's talk about why I choose Adore for my color needs. Adore hair colors are all semi-permanent. That means if I get tired of a color or shade, I know in a matter of washings, my hair will be back to the original color. That's not to say these colors don't last because they do, they just aren't forever. This is exceedingly nice when I try out a color for a while then decide it isn't the right one for me. Another reason I love Adore hair colors is that it is so very easy on my hair. These products are free of ammonia, alcohol, and peroxide. My hair actually feels better after coloring than it does before. It's a simple 20 minute process that I can handle at home for amazing color.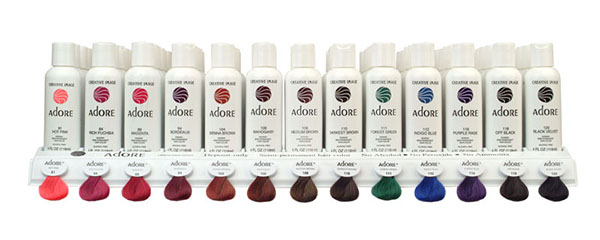 The Color Options
Speaking of amazing color, let's take a look at some of the tints and shades Adore offers. It doesn't matter if I want a natural color or something fun and funky, Adore always delivers. They offer an incredible selection from Crystal Clear which is a platinum blonde shade to Blue Black and almost everything you could imagine in between. They even have a range of pastel shades that include Cotton Candy, Jade, and Periwinkle which is a favorite of mine. For those of us that love shades of red, the Paprika is amazing and Cajun Spice adds a real zing. I love the Aquamarine for a lot of reasons and it makes a stellar edition to your pallet if you want mermaid hair. Of course, as a huge fan of all things purple, I think the very prettiest shade they have is African Violet. It's a deep, rich purple that shines when it hits the light.
When it comes to incredible semi-permanent color that lasts and lasts, you are sure to adore the wide array of colors from Adore. These colors not only look amazing but they keep your hair healthier than ever. From reds to blues, blondes to browns, and even greens and purples, you are certain to find a color you will love from day one until you are ready to explore a new color. There is sure to be a perfect one for you no matter your mood or your style. Which color will you choose for your first adventure?