If you have green eyes, you are fortunate as it's not difficult to find a hair color that makes them pop. Remember that the color of your hair also has to compliment your skin tone. A hair color within three shades of your natural color usually compliments the color of your eyes and skin tone the best.
One way to determine your skin tone is to examine the veins on your wrists. If they are blue or purple, your skin tone is probably cool. If they are green, your skin tone is likely to be warm. If you can't tell, you may have a neutral or olive skin tone.
Apart from the tone of your skin, you should also consider the undertones in your eyes. If your green eyes have hazel undertones you want to bring out, you need to choose warm colors. To compliment cool blue or gray undertones, you should rather choose cool colors.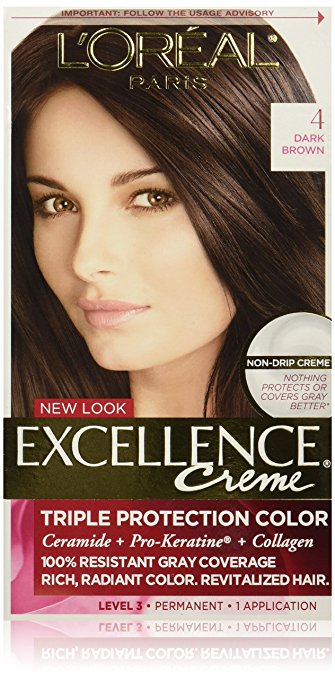 If you have an olive skin, it's likely that your eye color has some golden flecks. This makes chocolate browns and rich golden browns like this one from L'Oréal an excellent choice.
If you go much darker or lighter than your natural color, you will see the roots very quickly and need to re-color.  If you have already colored your hair, you can stay at the same level as you've colored previously or go up to two levels darker with compatible tones. This permanent crème hair color offers 100% coverage of gray hair, wrapping each hair fiber in rich and radiant color from roots to tips.
This product will protect, replenish and condition your hair for up to eight weeks. This is because it is infused with ceramide, collagen and pro-keratin. These help to repair hair damage and fight the degradation of hair fibers related to aging. They absorb deep into the hair and work on its appearance from the inside out. The pre-color treatment with ceramide helps to protect the ends from color buildup, and the non-drip formula and comb applicator make it easy to apply to the mid-shaft and ends of the hair.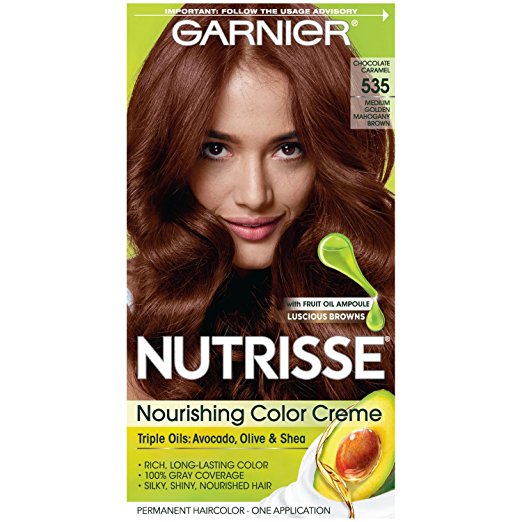 This is another rich brown color that works well with green eyes and will bring out those golden flecks in your eyes. It's the only nourishing color crème with a grape seed fruit oil ampoule that you can pour directly into your mix. The creamy after-color conditioner is infused with avocado, olive and shea oils.
The color is rich, long-lasting and offers 100% gray coverage. The non-drip crème spreads evenly and smells good.
If you are looking for a product that nourishes while it colors, this is it. It conditions the hair as it colors, penetrating deep into the hair, so it takes the color better and holds it longer. It protects against dryness and locks in moisture, so your hair remains silky and shiny.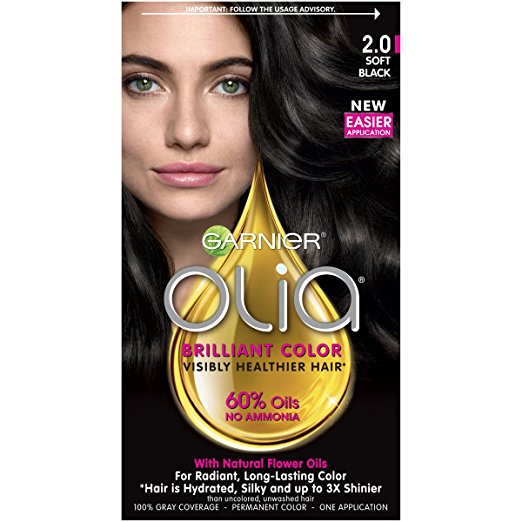 If you're going a little darker than your natural color, maintenance will probably be easy, but if it's a more dramatic change, you need to prepare yourself for visible roots.  Not everyone looks good with black hair and people with cooler skin tones may look very washed out with black hair. Choosing black is a serious commitment because going from black to light again is not easy at all. However, for some people with green eyes and a dark skin tone, black hair creates a dramatic frame for their faces and brings out their green eyes, rather than making them look washed out.
This is a black hair dye that gives you brilliant, radiant, long-lasting color. It offers 100% gray coverage, and the rich formula contains 60% oils. The non-drip cream formula can color your hair without the use of ammonia. As no ammonia is used, the fragrance is pleasantly floral, thanks to the natural flower oils of passion flower, camellia, sunflower, and meadowfoam.
The oils in the product visibly improve and restore your hair, reversing roughness and dullness for brilliant, shiny, long-lasting color.  As this dye is oil-based, it is perfect for people who have dry hair. It is also a good choice for people who are allergic to ammonia as ammonia is used in many hair dye products.