What better way to ring in the holiday season than with a new shade of lip color! The LipSense Aussie Rose is a perfect combination of a lightly-colored rose and a hint of natural beauty (from the consumer). Who says that gift-giving is only for the rich and famous during the holidays? The LipSense Aussie Rose lip color will only clear your bank account by $20-$25. With the cost of drug-store lipsticks and colors as high as they are, the price of this product is an absolute steal! You can even purchase a little stock pile of other colors from LipSense to complete the collection. Just keep in mind that LipSense has just produced over 70 different lip colors to compliment different styles of skin tones and colors. This is a huge-plus especially for consumers who like to change up their style every day.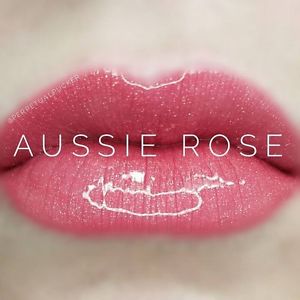 The LipSense Aussie Rose color is a sheer and soft color pink that leaves the lips feeling more plump and luxurious that ever. The color of the Aussie rose pops and shines throughout the whole day, without any need to reapply it. This color is the perfect shade to welcome spring showers and may flowers during the spring season. The lightness of the color proves to be romantic and very girly.  Feeling like you can use your lip color Aussie Rose to flirt your way out of any problem can be a good and bad thing. This pink/nude Aussie rose lip color will give you the confidence to conquer the world, if you may dare.
Just like every great product, a time to discuss the cons of that product has come and the verdict is in. While the LipSense Aussie Rose is a gorgeous shade of light pink and dusty rose, the lightness of the shade does prove to be less effective for long-lasting wear. The darker shades of the LipSense lip color collection tend to stay on longer because of their dark pigmentation.
Unfortunately, the lightness of this color sometimes requires a reapplication once or twice a day. Another con is the burning sensation that occurs after the initial uses of the Aussie rose lip color. While this side effect may not occur in all consumers, it is a common known effect that has triggered many consumers to negatively review this product. It can be disappointing when you are putting on a new shade of lip color just to feel like your lips have been burnt by a jalapeño pepper.
The LipSense Aussie Rose color has been known to pack on some extra heat when the first application occurs, so it is important to read the ingredients of this product to ensure you, the consumer, are not allergic to any of the ingredients. According the LipSense company and its partner company, a list of ingredients can be found on the packaging of the lip color case. In addition, reading through this list of ingredients can help any consumer looking for a review to make a decision. Some of the active ingredients are as follows: Isodonis Japonicus Leaf/Stalk Extract and Hypericum Perforatum (St. John's Wort) Flower/Leaf/Stem Extract.
The LipSense Aussie Rose color can take you from a day to night look in an instant. By the end of the day and you get home to remove your make-up from a busy day of errands, you will have forgotten about the long-lasting lip color. There is no need to be surprised or shocked when you notice that your lip color is still intact after hours of the initial application. This product is a great gift for you, your sister, or anyone who loves long-lasting make-up!