What are browning tattoos?
Browning tattoos are symbolic tattoos. The design of this tattoo is popular amongst hunters and gun enthusiasts. It originates from a company called Browning Arms Company which is a famous brand amongst those who like to shoot and hunt. Many people believe the best way to commemorate this corporation is to get a browning tattoo.
A browning tattoo is a famous logo from the Browning Arms Company. The logo is very recognizable of a deer profile. By getting this tattoo it shows your admiration and passion for not only the company but the way of life for hunters and gun enthusiasts alike.
The Browning Arms Company is an American Firearms and Sporting Goods company based in Montana, Utah. They have a wide range of firearms including shotguns, pistols, and rifles and sporting goods including knives, bicycles and fishing rods and reels.
The daring and highly recognizable logo first appeared in 1977. It was first used in advertising and has now become the symbol for rifles around the world. Many people class getting this logo as a tattoo, a badge of honor and is also known as the 'Buckmark'.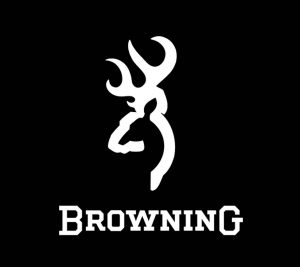 Where to get one?
With every tattoo, the decision of where to get one is often questioned. With a browning tattoo, many people get this tattoo to show their friends and colleagues. It is a symbol of admiration and passion for hunting and shooting and is worn with pride.
Because of this, most people who decide to get a browning tattoo will get one in a noticeable place on the body such as the arm or leg. A tattoo like this will often be the first talking point for most people. Many people will wear their tattoo with pride when going out shooting. For this reason, most tattoos will be a reasonable size and somewhere that can easily be seen like the back of the lower leg or the forearm or upper arm.
Of course, there are still many people who get this type of tattoo in a more discrete place on the body. This could be on the back, chest or top of the leg. All tattoos have significant and unique meaning to the person so it is down to the person on where they would prefer their tattoo.
Design Options
A browning tattoo is a tattoo of the popular Browning Arms Company Tattoo. Each browning tattoo only becomes one if it has this unique logo of the deer profile. The good thing about this is that it is very easy to make your tattoo unique. There are many different design options that people have got featuring the logo. You can choose different colors, patterns, and styles to make your logo unique.
Simple
If you want a simple browning tattoo then you can get the logo in the standard back design. Just as you see the logo for the Browning Arms Company, you can get the simple deer profile in all black ink. There is still a variety in this type of simple style. You could get a small logo on your ankle, wrist or arm or a large logo that could fill your entire thigh, forearm or upper arm.
The filling can also be decided upon, for example, you could get a fully filled in logo so it is completely black. Or you could also get the outline of the logo in a thick black color without filling it in. This is down to personal preference and both look great on the body.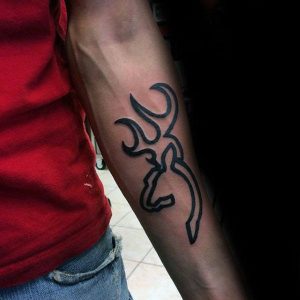 Color
The color of your tattoo is very important and makes a tattoo like this unique. Many people decide to have the outline of this tattoo in black in and fill in the tattoo with their favorite color. So you could get a browning tattoo with black outline and red in the middle.
Pattern
Patterns are the most popular design options for this tattoo. By adding a pattern to the deer profile Browning logo, you can show off your personal preference and interests. Patterns can include the American flag if you're feeling patriotic, camouflage, leaves, and roots. These patterns will show your interests and how much you love your country and the outdoors. As this tattoo symbolizes the passion for shooting, many people will have a big love for camouflage style.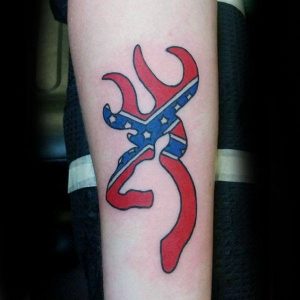 The browning tattoo is more than often a mans tattoo. However, this does not stop women from getting a browning tattoo. If a woman wants to get one of these tattoos they could get any of the designs explained before. They could also design their own featuring their logo and different pattern or coloring.