The renewal of a new season such as Spring brings forth many wonderful ideas and adventures. The days seem longer while the night slowly decreases in length. Springtime does not only refer to the climate, whether or customs. Spring allows for people to express themselves through glorious fashion statements. New York City is the proud host of spring fashion debuts as early as September. Amazing fashion trends have derived from the cultural events that take place during Spring. Some of these events include Carnival and Easter. Each year brings new fashion trends and accessories to follow. No need to panic because we've got you covered! So, now that the cold winter is coming to a rest, it's time to pack up those sweaters and make room for spring outfits!
Neutral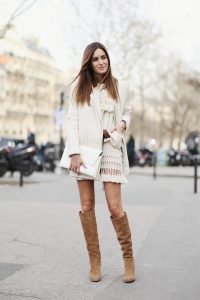 Nude colors are all the rage this spring seasons. Pastel and light colors have known to make an appearance throughout spring but neutral colors have always been behind the scene. Now, cream, beige and camel colors have come back for a true fashion statement. Neutral colors have been very underrated and it is about time they made a comeback. You can mix styles and trends all while keeping a neutral color pattern. Here you can go for a stylish bohemian look, including fringe.
2. Pale Blue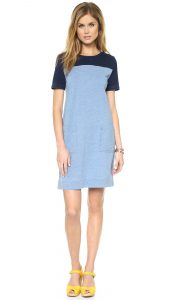 Marc Jacobs is one of the top American fashion designers that has followers from around the world wearing his designs. During his latest shows, Marc by Marc Jacobs showed a series of pale blue spring outfits. These outfits were magnificent and to die for! Some of the runway ready looks are a little too extravagant for the everyday women, so why not choose a more subtle look. This pale indigo dress will complement any shape and body. It loosely hangs and has comfy side pockets. The contrast of the dark blue accent on the shoulders and upper torso is perfectly designed! Add a simple pair of colored wedges and you are good to go.
3. Butterfly Effect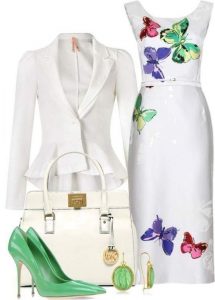 The butterfly fashion trend made a quick appearance during the 90's. This trend was all the rage from toddlers to teens to moms. Butterflies help distinguish the rejuvenation of springtime and endless possibilities. Sure this 90's trend needed a little tweaking and it has finally made its way back into fashion. This fitted butterfly-accented dress will have you looking fashion forward and chic while going to work. Add a formal blazer and minimal accessories and you will kill it at your next meeting. Remember that sometimes less is more and its best not to overdo the butterfly theme by adding this pattern to all your accessories.
4. One- Shoulder
Off-the-shoulder looks are out and one-shoulder looks are in. Showing a little skin is not just a plot to make people notice you, but a real fashion statement. The one-shoulder or "one cold shoulder" look can be worn for almost any occasion. You can dress it up for a night out on the town or wear it will a covered blazer while at work. This Midi Dress from Nordstrom is sure to be a hit with this fitted silhouette and simple elegance. You can choose from this gorgeous blush tone or choose it as your LBD (little black dress).
5. Polka Dot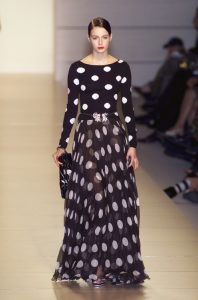 Polka dots are a hit or miss fashion trend for most people. While some people love the idea of having these dots scattered around their clothes, others might not like them. Fashion style can certainly change from person to person, but simple elegance can come from a polka dot design. This polka dot dress by Miss Rich is sure to turn some heads. The combination of light and see-through skirt and fitted polka dot top makes for the perfect outfit. The added touch of a subtle (but sparkly) belt gives this simple look a touch of glamour.
6. Safari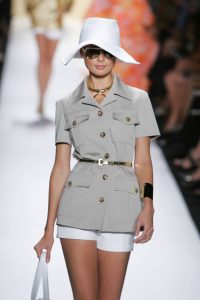 You don't have to go on a safari to wear this type of jacket. A safari jacket is a must-have item in your closet. Depending on the type of jacket you choose, it can be worn in many different ways. The jacket below was created as a short-sleeved jacket to be worn alone, paired with an outfit, or the main staple of an outfit. As you can see, this jacket has been made to be the centerpiece of this cute spring outfit. The short-sleeved look paired with a gold-accented belt and accessories is a real winner.
7. Floral
Spring is all about floral designs and light colors. The 70's jumpsuit has been making a coming in the last five years and people are loving it! You can go any way with a jumpsuit and sometimes showing a little skin is better! Here you will find a cute floral jumpsuit that will instantly grab anyone's attention. Whether you are on a hot date, a night out with bae or hitting the club with your friends, like peach cut out jumpsuit is sure a hit!
8. Animal Print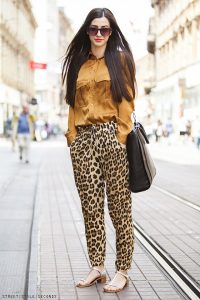 Express the animalistic side of you in a fashion-forward statement. You do not have to wear your emotions on your sleeves, your outfit can do all the talking. A leopard printed pair of trousers are sure to make a fashion statement and make others know you are fierce. Pairing this print can be a hit or miss, so try something neutral and simple. The leopard print is all the accessory you will need, so ditch the jewelry.
9. Stripes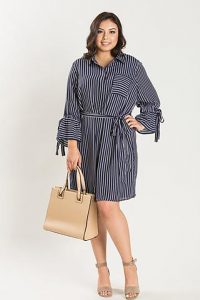 Stripes have always been a come and go fashion trend. Nautical trends made a real comeback in the mid to late 2000s. Now, here we are in almost a decade later and this fashion trend has made its way into our hearts again. Striped looks can work for any body shape or size. Here you can mix the striped fashion statement with the classic shirt dress. By mixing both styles, you are sure to feel beautiful.
Fashion is a way for people to express themselves without using words. You should dress exactly how you feel and shouldn't care what others think of you. As long as you are happy with your own fashion style, that's what counts. If you are looking for a little inspiration, then these cute spring outfits are sure to put on the path to happiness.